Back to Recipes
Decadent Mushroom Soup Au Gratin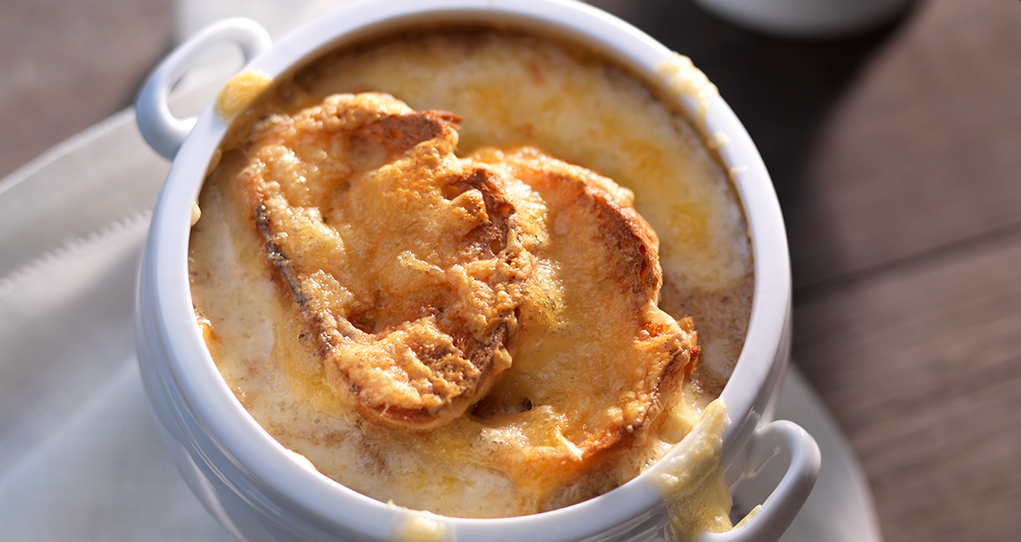 Ingredients
1 pkg (14 g) dried porcini mushrooms
1 cup (250mL) warm water
1/2 cup (125mL) Lactantia® unsalted butter, divided
2 leeks, white and light green parts only, roughly chopped
1 small onion, diced
2 tsp (10mL) dried herbs de Provence
16 oz (500g) cremini mushrooms, sliced
7 oz (200g) shitake mushrooms, stems removed, sliced
2 cups (500mL) dry white wine
4 cups (1 L) chicken or vegetable broth
1 container (500g) Astro® Original Balkan Plain 2%
Salt and freshly cracked pepper to taste
8 1/2 inch (1 cm) thick slices of baguette
5 oz (150g) gruyere cheese, grated
Preparation
In a small bowl, soak porcini mushrooms in warm water for 15 minutes. With slotted spoon, remove mushrooms. Strain liquid and set aside.

Meanwhile, in a large heavy bottom pot, melt 4 tbsp. (60 mL) of butter over medium-low heat and sauté leeks, onions and herbs de Provence for 5 minutes or until onions are transparent. Add reserved porcini mushrooms, mushroom liquid, cremini and shiitake mushrooms; sauté for 10 minutes. Add wine and simmer for 5 to 10 minutes or until wine has reduced by half. With slotted spoon, remove 1/2 cup (125 mL) of mushrooms and set aside.

Add broth to the pot and simmer until mushrooms are tender, about 5 minutes. Remove from heat and stir in remaining butter. Let soup cool for 20 minutes.

Using an immersion blender in pot or transferring soup in batches to an upright blender, puree soup until smooth. Whisk in yogourt until well combined. Season to taste with salt and pepper. Preheat broiler.

To serve, divide reserved mushrooms between eight 1-cup (250 mL) ovenproof soup bowls. Top with soup and a slice of baguette. Sprinkle cheese evenly over bread slices.

Place bowls on a large baking sheet. Broil until cheese is melted and golden brown. Serve and enjoy!