Back to Recipes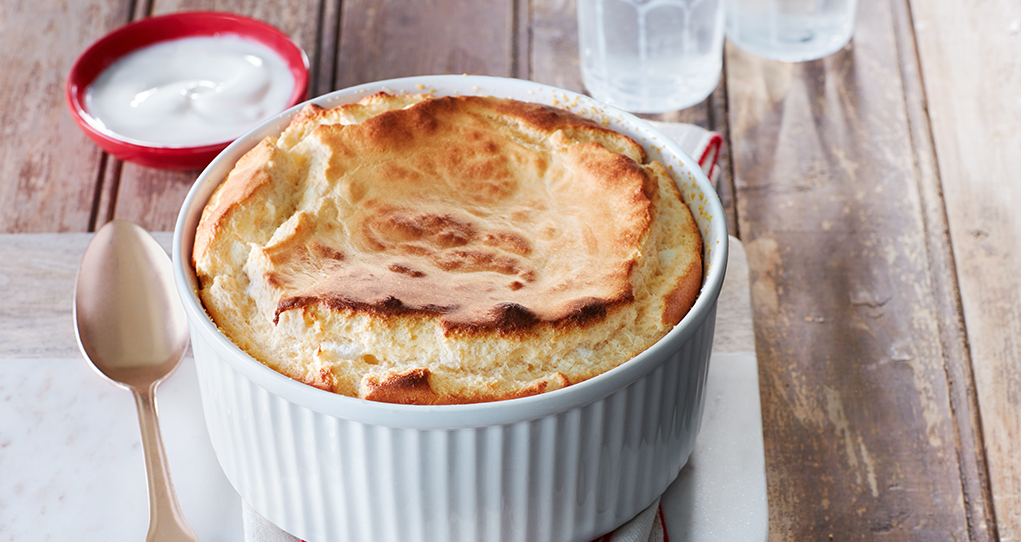 Ingredients
1/4 cup Lactantia® Unsalted Butter, softened
1 tbsp cornmeal
2 tbsp all-purpose flour
¼ cup Lactantia® PurFiltre® 2% Milk
1 cup Astro® Original Balkan Plain 2% yogourt
½ 250 g pkg cream cheese, cubed
1 cup grated Black Diamond® Medium Cheddar Cheese
1 tsp dijon mustard
¼ tsp cumin
¼ tsp sea salt
4 eggs, separated
1/8 tsp salt
Preparation
Preheat oven to 400ºF.

Lightly brush bottom and side of a 1.5L(6 cup) soufflé dish with 1 tbsp butter, then dust with cornmeal, turning dish to coat.

Refrigerate dish.

Melt remaining 3 tbsp butter in medium saucepan over medium heat. Whisk in flour and cook for 1 min.

Gradually whisk in milk, then Astro Original Balkan Plain 2% yogourt, whisking constantly until mixture begins to thicken. Stir in cream cheese, cheddar, dijon, cumin and salt until smooth. Season with fresh pepper. Remove from heat and whisk in egg yolks.

Beat egg whites with 1/8 tsp salt in a medium bowl, using an electric mixer on high, until stiff peaks form when beaters are lifted, about 2 min.

Stir a quarter of the egg whites into cheese mixture. Gently fold in remaining whites. Pour into prepared dish. Clean edge with your finger or paper towel.

Bake in centre of oven until centre of soufflé is puffed and golden-brown, 20 to 23 min. Serve immediately.