Back to Recipes
Whole Roasted Cauliflower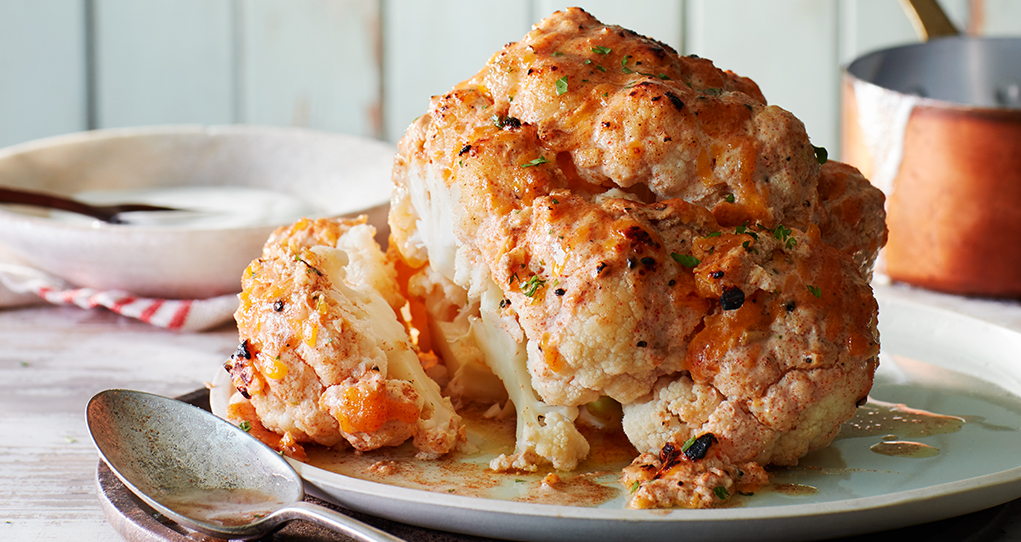 Ingredients
1 medium green or regular cauliflower, trimmed
1 cup Astro® Original Balkan Plain 6% yogourt
1 cup finely grated Black Diamond® Mild Cheddar Cheese
2 garlic cloves, minced
1 tsp ground cumin
1 tsp smoked paprika
1/2 tsp sea salt
1/2 tsp black pepper
5 tbsp Lactantia® Unsalted Butter
Preparation
Preheat oven to 375°F.

Steam cauliflower in a large pot fitted with a steamer basket and 1-in. of water. Cover and cook over medium heat for 8 min. Remove cauliflower and let stand in basket for 5 min. Transfer to a casserole dish.

Stir Astro Original Balkan Plain 6% yogourt with cheese, garlic, cumin, paprika, salt and pepper in a medium bowl. Spoon yogourt mixture over cauliflower, to coat evenly.

Roast until cauliflower is fork tender, about 20 min. Broil until top is golden, about 3 min.

Melt butter in a small frying pan over medium-high heat until brown. Cut cauliflower into wedges and drizzle with brown butter before serving.