Back to Recipes
Creamy Chicken Veggie Bake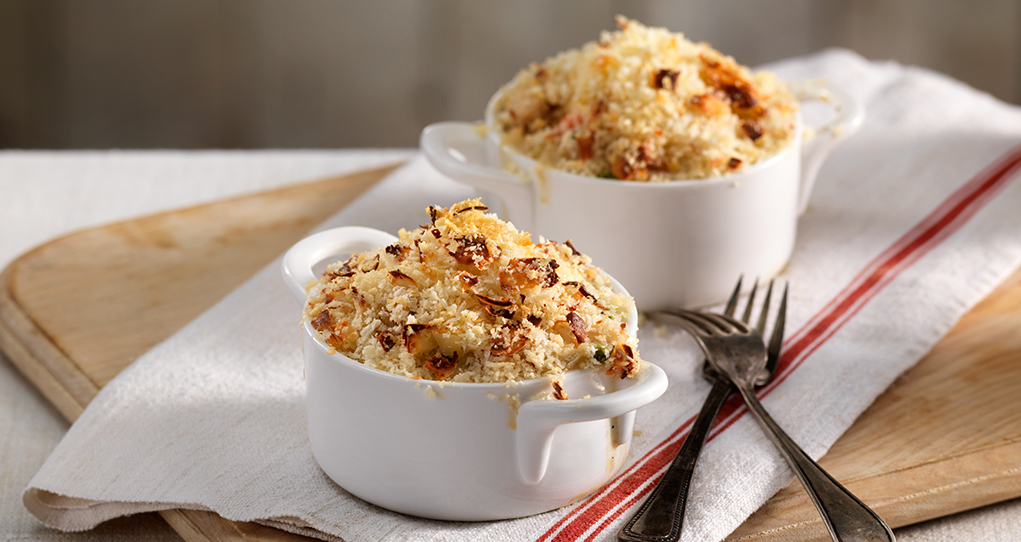 Ingredients
1/4 cup (60mL) Lactantia® Unsalted Butter, divided
2 lbs (910g) boneless skinless chicken breasts and/or thighs, cut into bite size pieces
3 stalks celery, diced
3 carrots, peeled and sliced
2 cloves garlic, minced
2 large yellow fleshed potatoes, diced
1 onion, diced
3 tbsp (45mL) all-purpose flour
2 cups (500mL) chicken broth
2 cups (500mL) Astro® Original Balkan Plain 3% yogourt
1 cup (250mL) fresh or frozen peas
2 cups (500mL) panko breadcrumbs
1/4 cup (60mL) Lactantia® Unsalted Butter, melted
8 oz (250g) smoked gouda cheese, shredded
Preparation
Preheat oven to 350°F (180°C). Butter a 13 x 9-inch (3 L) baking dish or individual ovenproof 1 cup (250 mL) ramekins.

In a large heavy bottom pot, melt 2 tbsp (30 mL) of butter over medium heat and sauté chicken until golden. Transfer chicken to bowl and set aside.

Add remaining butter and sauté celery, carrots, garlic, potatoes and onion for 5 minutes. Sprinkle mixture with flour and cook stirring for 5 minutes. Slowly, stir in broth and reserved chicken; cook covered until vegetables are tender and chicken is no longer pink inside. Remove from heat and stir in Astro Original Balkan Plain 3% yogourt and peas. Spoon into prepared baking dish or ramekins.

In a medium bowl combine, breadcrumbs, butter and cheese; sprinkle evenly over chicken and vegetable mixture. Bake for 15 minutes or until mixture is bubbling and topping is golden brown.
Tip: Substitute chicken for extra firm tofu cubes and chicken broth to vegetable broth for a delicious vegetarian dish!