Back to Recipes
Fruity Crunch Baked Oatmeal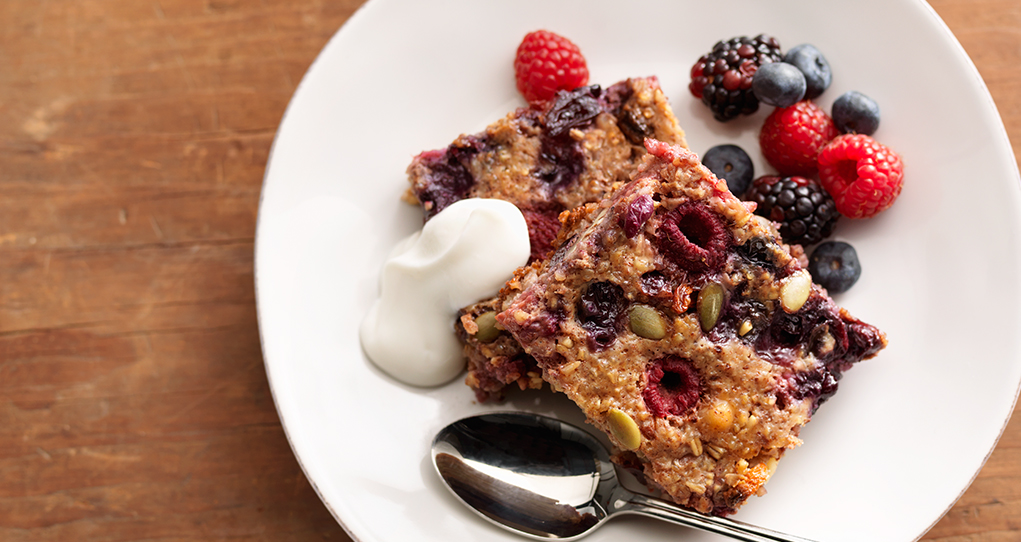 Ingredients
2 cups (500mL) steel cut oats
2 cups (500mL) Astro® Original Balkan Vanilla yogourt
1 cup (250mL) Lactantia® PurFiltre® 2% milk
2/3 cup (150mL) trail mix
1/2 cup (125mL) maple syrup
1/4 cup (60mL) liquid honey
2 tbsp (30mL) Lactantia® Unsalted Butter, melted
2 tsp (10mL) ground cinnamon
Pinch of salt, optional
Preparation
Preheat oven to 375°F (190°C). Lightly grease a 13- x 9-inch (3.5 L) metal cake pan.

In large bowl, combine oats, Astro Original Balkan Vanilla yogourt, berries, milk, trail mix, maple syrup, honey, butter, cinnamon and salt, if using; stir gently until coated.

Spread into prepared pan, smoothing top. Bake for 60 to 70 minutes or until oats are al dente and set. Let cool in pan on rack; cut into squares. Serve with a dollop of your favourite Astro yogourt and enjoy!