Back to Recipes
Yogourt and Orange Marinated Pork Tenderloin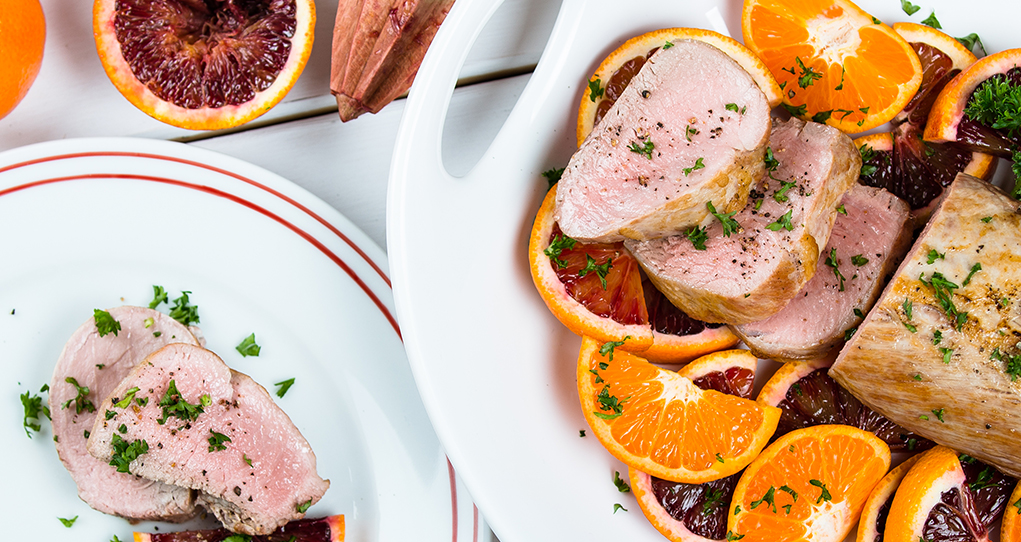 Ingredients
1 lb (450 g) pork tenderloin
1 cup (250 mL) Astro® Original Balkan Plain 2% yogourt
2 tsp (10 mL) orange zest
¼ cup (64 mL) orange juice
2 tbsp (30 mL) extra virgin olive oil
2 blood oranges, cut into wedges
2 navel oranges, cut into wedges
Salt and pepper
Freshly chopped parsley
Preparation
In a large sealable freezer bag combine the tenderloin, Astro Original yogourt, orange zest, orange juice and 1 tbsp olive oil. Season with salt and pepper and marinate for 1 hour and up to 24 hours.

Remove meat from marinade and pat dry. Preheat the oven 350°F (180°C).

Preheat an oven safe skillet over medium-high heat. Add 1 tbsp olive oil and sear tenderloin on all sides until browned. Transfer skillet with tenderloin into the oven for 20-25 minutes until medium.

Remove from the oven and tent with foil for 10 minutes. Slice the tenderloin and arrange on a platter with orange wedges. Top with fresh parsley.