Back to Recipes
Farm Stand Apple Crumbles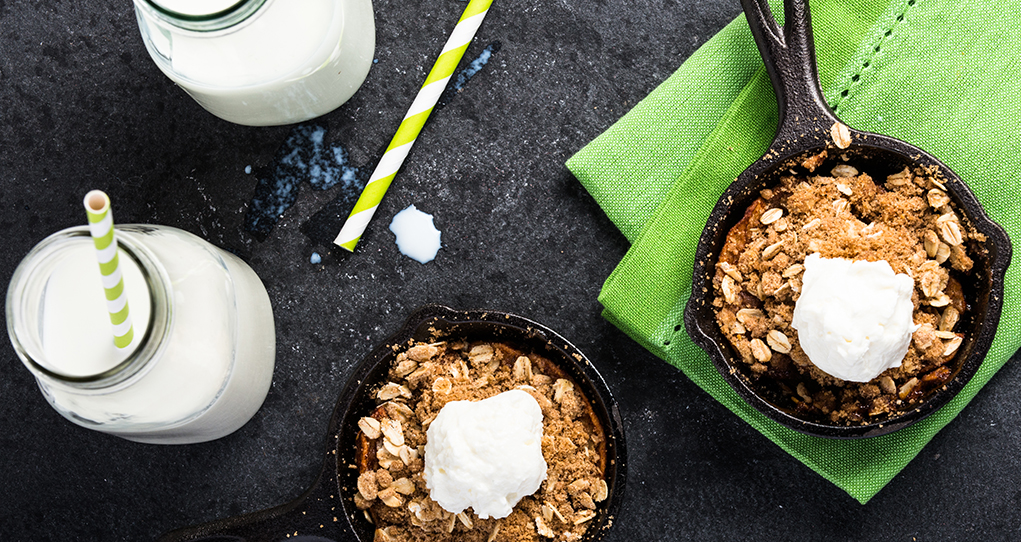 Ingredients
3 Granny Smith apples, peeled, cored and sliced into wedges
2 tbsp (30 mL) granulated sugar
2 tsp (10 mL) ground cinnamon, divided
¼ cup (64 mL) Lactantia unsalted butter, room temperature
½ cup (125 mL) old fashioned rolled oats
¼ cup (64 mL) all-purpose flour
⅔ cup (166 mL) brown sugar
¼ teaspoon (1.2 mL) salt
1 cup (250 mL) Astro® Original Balkan Plain 2%
Preparation
Arrange two layers of paper towel or 4 layers of cheesecloth over a fine mesh sieve. Add Astro Original yogourt and let drain for at least 1 hour or overnight in the refrigerator.

Preheat the oven to 350°F (180°C). In a bowl, toss apple slices with granulated sugar and ½ tsp cinnamon. Set aside.

In another bowl, combine the remaining cinnamon with the Lactantia butter, oats, flour, brown sugar and salt. Using a fork or your hands mix until completely combined.

Divide apples slices between four 6-ounce ramekins or mini cast iron baking dishes. Top each dish with crumble topping. Transfer to the oven and bake for 40 to 45 minutes until apples are bubbling and crumble is golden brown.

Remove from the oven and rest for at least 15 minutes, serve warm or room temperature with a dollop of strained Astro Original yogourt.