Back to Recipes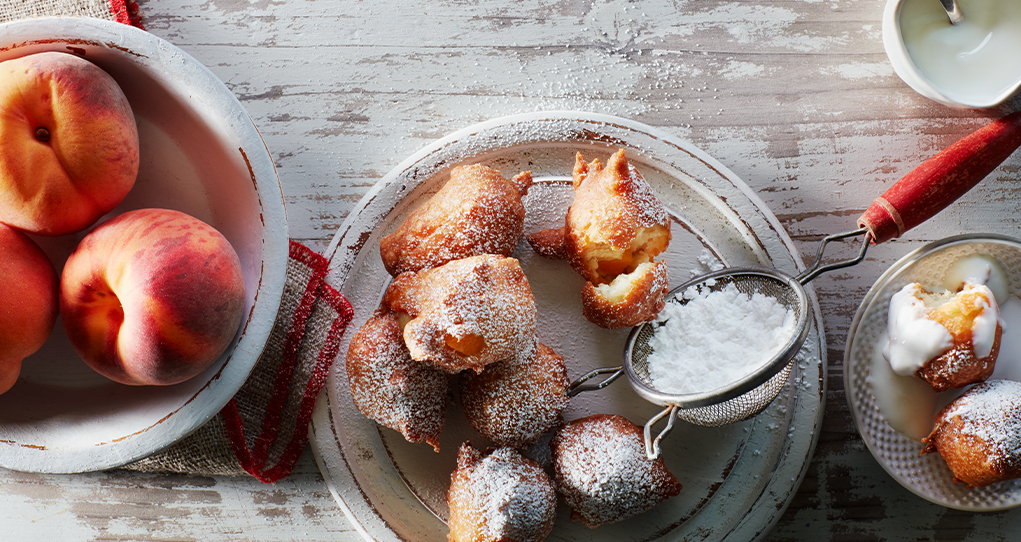 Ingredients
1 ½ cups Astro® Original Balkan Plain 6% yogourt, divided
½ tsp baking soda
1 ½ cups all-purpose flour, sifted
1 tsp baking powder
¼ tsp ground cardamom
1/8 tsp salt
1 egg
¼ cup granulated sugar
¼ cup Lactantia® PurFiltre® 2% milk
1 ½ cups + 1 tbsp icing sugar
2 fresh small peaches, peeled and cubed and pat dry or ½ cup canned peaches, cubed
Vegetable oil for frying
Preparation
Stir 1 cup Astro Original Balkan Plain 6% yogourt with baking soda in a small bowl and set aside.

Stir flour with baking powder, cardamom and salt in a medium bowl.

Whisk egg with sugar in a large bowl, then whisk in yogourt mixture. Fold in flour mixture until combined. Gradually stir in milk. Let rest 10 min.

Stir remaining ½ cup Astro Original Balkan Plain 6% yogourt with 1 tbsp icing sugar in same yogourt bowl, until smooth.

Place remaining 1 ½ cups icing sugar in a pie plate.

Pour oil into a large pot until it reaches 2 in. up the side. Clip a deep-fry thermometer to the side. Heat over medium until temperature reaches 350ºF. Adjust heat as needed to keep temperature at 350ºF during cooking.

Scoop a heaping tbsp of batter, pressing 2 to 3 pieces of peach into centre before gently adding to oil. Fry 6 to 8 puffs at a time, until golden, about 2 min. Remove puffs and immediately add to icing sugar, tossing to coat. Serve warm or at room temperature with sweetened yogourt.