Back to Recipes
Lamb Burger with Pickled Beet Salsa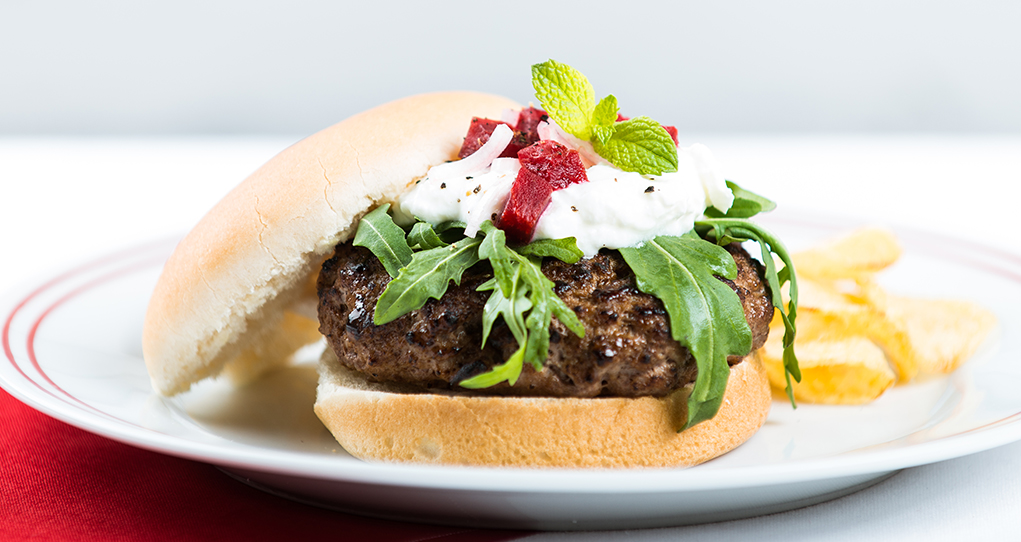 Ingredients
4 hamburger buns
1 lb (450 g) ground lamb
½ tsp (2.5 mL) dried mint
¼ cup (64 mL) breadcrumbs
2 tbsp (30 mL) Lactantia 2% milk
1 cup (50 g) baby arugula
½ cup (125 mL) diced pickled beets
1 shallot, thinly sliced
1 tbsp (15 mL) extra virgin olive oil
1 tsp (5 mL) lemon zest
1 tbsp (15 mL) freshly chopped mint
¼ cup (64 mL) Astro® Original Balkan Plain 3% yogourt
Salt and pepper
Preparation
Preheat a lightly oiled grill over medium-high heat.

Meanwhile, combine ground lamb, dried mint, breadcrumbs, milk and salt and pepper. Shape into 4 - ¾-inch patties. Grill patties for 7-8 minutes per side for medium.

While the burgers cook, make the salsa. Stir together beets, shallot, olive oil and mint; set aside. In another small bowl, stir together lemon zest, Astro Original yogourt and mint.

Divide lamb burgers between buns. Top with baby arugula, Astro Original yogourt and beet salsa. Serve immediately.