Back to Recipes
Mediterranean Lamb Meatballs with Yogourt Tahini Sauce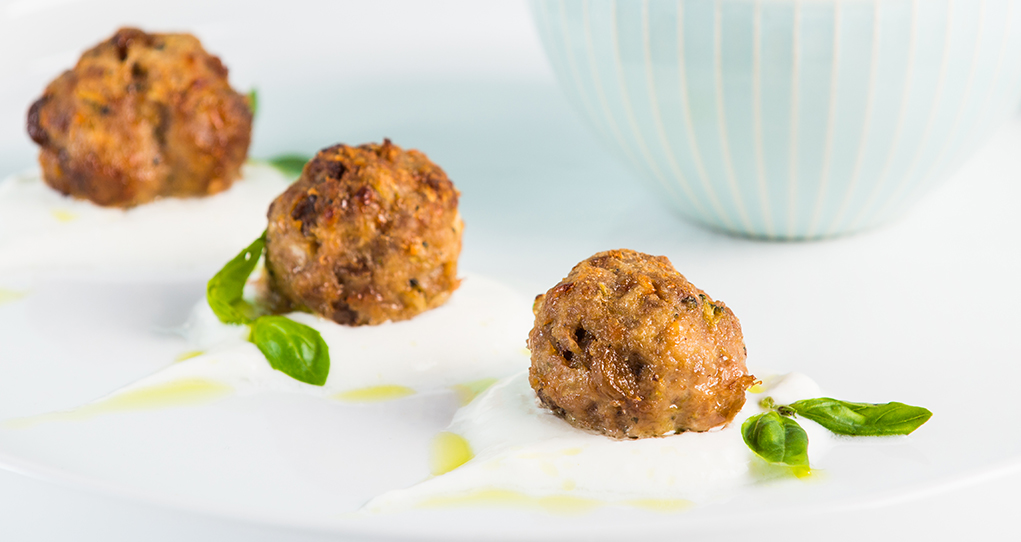 Ingredients
1 egg

½ cup (125 mL) fresh bread crumbs

½ cup (125 mL) minced onion

2 cloves garlic, minced

2 tsp (10 mL) finely grated lemon zest
½ tsp (2.5 mL) each dried mint, salt and pepper

¼ tsp (1.25 mL) each ground allspice and cinnamon

1 lb (450 g) ground lamb 

½ cup (125 mL) crumbled feta cheese

3 Greek-style pita bread, halved

6 cups (450 g) baby spinach leaves or chopped romaine lettuce

3 plum tomatoes, chopped

Yogourt Tahini Sauce:

1 cup (250 mL) Astro® Original Balkan Plain 2% yogourt

⅓ cup (84 mL) tahini

2 tbsp (30 mL) chopped fresh parsley or dill

2 tbsp (30 mL) lemon juice

1 tbsp (15 mL) extra-virgin olive oil

¼ tsp (1.25 mL) each salt and pepper
Preparation
Tahini yogourt: In a bowl, whisk together Astro Original yogourt, tahini, parsley, lemon juice, oil, salt and pepper until smooth.


In a bowl, beat egg with 2 tbsp cold water. Stir in bread crumbs, onion, garlic, lemon zest, mint, salt, pepper, allspice and cinnamon. With your hands, mix in lamb and feta. Wetting hands if necessary to prevent sticking, form balls of 2 tbsp each; place on a foil-lined baking sheet. Bake in 400°F (200°C) oven until digital thermometer inserted sideways into the centre of a few balls reads 160°F (71°C), about 20 minutes.


Meanwhile, wrap pita halves in foil and warm in 400°F (200°C) oven for 15 minutes. To assemble, place 1 pita half on each plate; spread some yogourt mixture on top and mound with spinach. Top with meatballs; drizzle with more yogourt mixture. Sprinkle with tomatoes.